FREE SHIPPING

Free shipping on all US order above $50

GODDESS REWARDS

Earn as you shop

SHOP NOW PAY LATER

Flexible shopping options.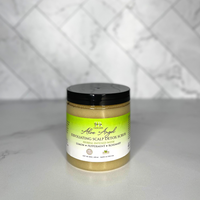 Aloe Angel Herbal Scalp Detox Scrub
$15.95
A Definite Must Have
Gave this a try just to see if I noticed a difference. And I absolutely did!!! A great scalp scrub that leaves your scalp refreshed.
Smells amazing
I have now used this twice and the smell is strong but it smells so good. I have definitely noticed a difference in my itchy scalp.
Not bad at all
I wish it was less oil in the product but it definitely did the job I'm happy about the purchase
I just used this prior to shampooing...NOW...I didn't expect it to really get rid if all my dandruff build up!!! Baby! Got rid of the dandruff and after shampooing and conditioning my curls were fire! I blew my hair out and it was so soft! Mannnn, listen! Ill be doing a YouTube review! I appreciate a black owned company where the products do what they say! 🙌🏿
Great product, great results!
As a stylist, I am always looking for products that would benefit my clients' hair. I enjoyed using this product. It smells great and is a great exfoliate for the scalp. It cleanses and refreshes the scalp of any buildup.